The Evin Prison Rosetta Stone

---
Evin

prison
on the northern outskirt of Tehran became a symbol for oppression, violence and humiliation of human rights in Iran,
trying to break the braveness of the
political prisoners
there.
One of them, Bahareh Hedayat, student, political activist, initiator of the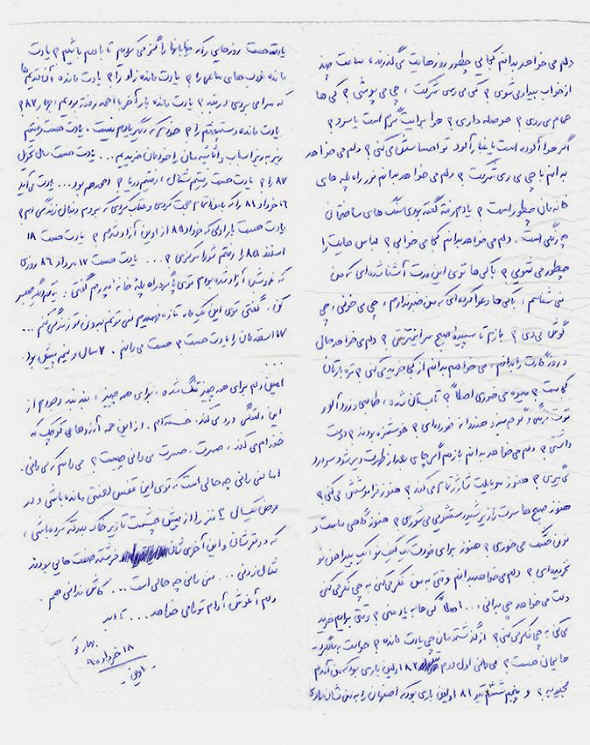 campaign "1 Million Signatures for the Repeal of Discriminatory Laws" and sentenced to nine and a half years in prison, recently send an open letter to her husband Amin.

This letter is not only a document of the power of human spirit to resist torture and oppression, but it is also written in a very beautiful language that reminds one on the poetry of Hafiz and Rumi.

This web-site will publish translations of Bahareh Hedayat's letter in different languages, thus forming a Rosetta Stone like document that should remind people all over the world of the situation of Mrs. Hedayat and of other political prisoners in Iran.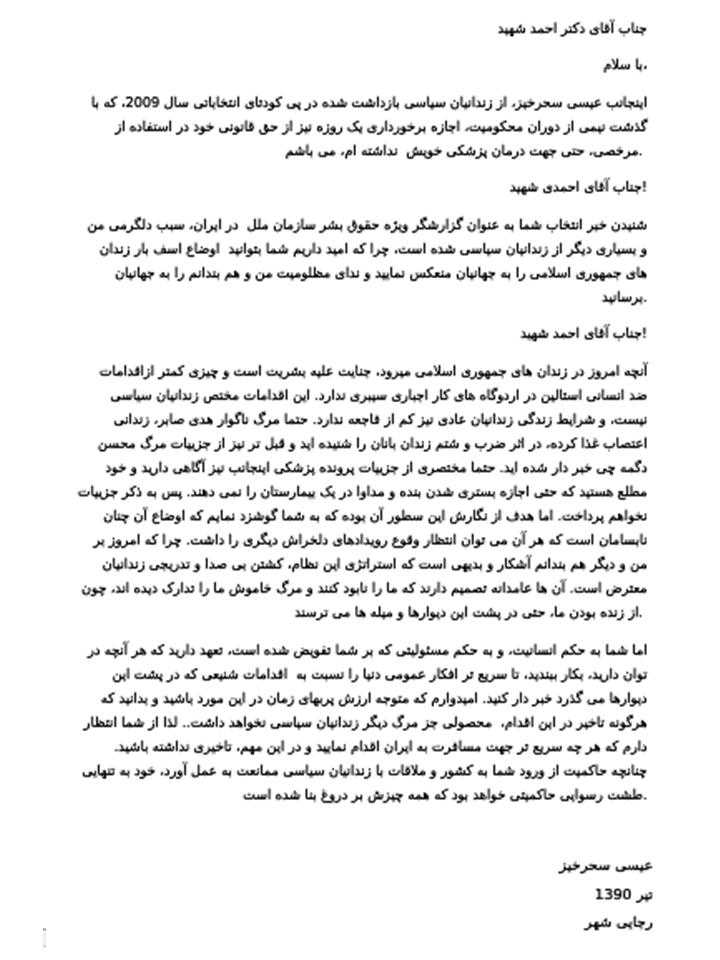 Isa Saharkhiz,
a prominent journalist and one of the founders of the "Society for the Defense of Press Freedom in Iran" was violently arrested in July 2009 and consequently suffered broken ribs. He was charged with having "insulted the regime and the supreme leader" and sentenced to three years in prison. For another five years he was warned not to continue with any political or journalistic activities. He has also been refused to leave the country for one year.
Mr. Saharkhiz recently wrote a letter from inside Rajai Shahr prison to the UN Human Rights Special Rapporteur, Dr. Ahmad Shaheed, urging him to take immediate action and travel to Iran. Saharkhiz describes the Iranian prison system for political activists as a sophisticated program to mentally and physically destroy its victims.

Heshmat Tabarzadi is an Iranian journalist and democratic activist. He was arrested on December 28, 2009, in front of his wife and son by agents who also seized his books, papers, and computer, and is currently being held at an unknown location.

Tabarzadi published an opinion piece in the Wall Street Journal on December 17, 2009. In his op-ed, he wrote: "If the government continues to opt for violence, there very well may be another revolution in Iran. One side has to step down. And that side is the government—not the people.

Tabarzadi was viewed by the regime as one of the leaders of the student protests of July 9, 1999. He was arrested and spent nine years in Evin Prison, including two in solitary confinement, for his activities as a student leader.

On October 3rd Heshmatollah Tabarzadi was sentenced to 9 years in prison and 74 lashes

He has been convicted of conspiracy and assembly to commit a crime against national security and insulting the Supreme Leader. Tabarzadi was detained on December 28th after the Ashura protests and transferred to solitary confinement in Ward 209 of the Evin Prison. He was later transferred to the Rajaei Shahr prison for protesting the execution of the 5 Kurdish activists including Farzad Kamangar. From Rajaei Shahr he wrote a response to his political trial.

Heshmat's son Hossein has visited his father after he participated in several hunger strikes. His son was most concerned about the critical health conditions of Mr. Tabarzadi which are a direct consequence of the deleterious conditions at this notorious detention facility.


Mehdi (Kourosh) Kouhkan, political prisoner in Ward 350, is in need of surgery. The judicial authorities have halted his treatment and have failed to transfer him to a hospital. He is in poor condition and may lose his leg if he is not treated.

According to the Human Rights House of Iran, in a letter, he has stated that "since the treatment was halted, my leg has been infected." He has further added that "I am taking antibiotics which have led to digestive problems."

Update:

Together with 74 other political prisoners from Evin, Mehdi Kouhkan was granted pardon on August 17th 2012 (Source:

Kaleme

and

BanooyeSabz

)



Ahmad Zeidabadi is an imprisoned journalist and the Secretary General of Tahkim Vahdat, a prominent student alumni organization in Iran. He has been imprisoned for 767 days and has not been granted furlough. He was sentenced to six years in prison and five years exile to Gonabad (a county in the Razavi Khorasan province in Iran).

In May 2011, an independent international jury of 12 media professionals selected Mr Zeidabadias the laureate of this year's UNESCO/Guillermo Cano World Press Freedom Prize.


His letter from Rajai Shahr 'Gohardasht' prison to his wife Mahdieh Mohammadi on the occasion of her birthday was recently published by Advar-News.







Nasrin Sotoudeh, a lawyer, women and human rights activist who has been imprisoned in Evin prison for over nine months, has written a few letters to her children, her three year old son Nima and her eleven year old daughter, Mehraveh. She has written these letters on paper tissues since she has been denied stationary. A photocopy of the original letters written on toilet paper is attached.

Ms. Sotoodeh was put on trial in branch 26 of the Revolutionary Court. She was charged with propaganda against the Islamic Republic of Iran's regime, acting against national security, and membership in the Association of Human Rights Defenders. She has been sentenced to 11 years of punitive imprisonment and barred from practicing law or leaving the country for 20 years due to these charges. In addition, she was fined 50, 000 tomans (approximately $50) for appearing improperly veiled in a video clip of a speech of hers.


(Source: The feminist school)

Ali Shirasi is a teacher of mathematics, statistics and macro-economy. He became politically active during the 1960s, when he organized a teachers union in Tehran. The established system under the Shah became aware of his political activities and he was subsequently imprisoned in 1975. Thanks to the intervention of International Red Cross, Ali Shirasi was released from prison in 1978. His real struggle began in the wake of the "Islamic Revolution" under Khomeini, when he was imprisoned in Evin and tortured. As a consequence of his treatment in Evin prison, Mr Shirasi suffered several health complications and was temporarily released to receive medical treatment. During this time he fled Iran and since 1987 lives in Germany. He is a poet, writer and ambassador of Iranian arts and culture.


(Source: Ali Shirasi web page)






Amir Hekmati

is an US citizen with Iranian roots. On a privat trip to his relatives in Tehran, Amir was arrested in 2011 by the police and accused of espionage. On the base of fabricated evidence he was initially sentenced to death, but an appeal court overturned this initial decision. Since then Amir sits in solitary confinement at Evin Prison.

After an official inquiry his sister, Sarah Hekmati was told that there will be a review of his case, but neither his lawyer nor Amirs relatives living in Iran and the US were given the possibility to see him. It is questionable how an honest investigation of his case should be possible under such circumstances.

In January 2013 the Hekmati family made a plea to the Iranian authorities and wrote a

letter to the Iranian surpreme

leader Ali Khamenei, asking to either grant Amir a new legal case or release him from prison. But since more than a year now, his family in Michigan hasn't been allowed to talk to Amir at all – no letters, no phone calls, nothing. It seems a particular cruel form of psychological terror to refuse a prisoner all contacts with his family for such a long time. We know very well from similar cases of political prisoners in Iran that applying such mental pressure is often intended to get any confession that suits the regime.



We hope that one day Amir will be back to his family and friends, and he will be able to write about his time in Evin. At the moment, we only can show a letter from Sarah Hekmati to the US Senat, to the House of Representatives and to the US Secretary of State. You might sign this letter in a petition here.







If you would like to contribute a translation to a language not yet listed, please e-mail to evin-rosetta (at) persian-cat.de